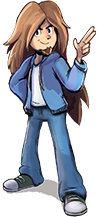 So, a week in review? Great sprites, great ideas on our end, and great living. I hope the same can be said for all of you! Just remember, it's never time to be down and blue - always time to be happy!
We've got some cool sheets in this update, and we also have some cool sheets in the queue - everything is cool. I love it!
I think that in a few months, tSR will be something to be seen. I'm looking forward to it - are you?
Enjoy!
Arcade Sheets: 3
CD-i Sheets: 1
Custom / Edited Sheets: 5
Game Boy / GBC Sheets: 3
Genesis / 32X / SCD Sheets: 5
Master System Sheets: 1
NES Sheets: 11
Nintendo 64 Sheets: 5
PC / Computer Sheets: 3
PlayStation Sheets: 39
SNES Sheets: 5
Wii Sheets: 3