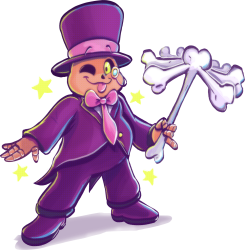 I think I've been there twice... Once with my bruhddy (that's a bruh AND a buddy) Shade and the other time with... that other person we don't talk about. One time there was--oh, are we updating? Shoot, can we start over? ...No...? Well fudge. Nothing like making a fool of yourself on live tele--uhm, internet.
ANYWAY, there's like loads of stuff here and it's really cool and you should check it out and see us next time and--what? I have to EXPLAIN what's in the update?! Yeesh, you guys drive a hard bargain. I better be getting paid for this...
SO, this time we've got some of EVERYTHING here; more Fire Emblem: Fates, many MOTHER 3 backgrounds, more iDOLM@STER: Cinderella Girls than we know what to do with, some Stardew Valley, lots of Kantai Collection and various other odds and ends like Pop'N Music, Adventure Island, Koumajou Densetsou II: Stran...that Touhou game and... Adventures Through McDonaldland?! Great, now I want fast food... What? We finished filming 10 seconds ago?! I am so sueing.
Until next time!...When I get a raise.