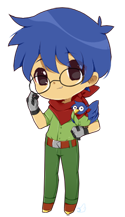 *unfortunate piano key mashing and blood curdling screams as the text is TERRIFYINGLY off-center and the sparkles cut off on this logo I made in less than 5 minutes for Halloween*
Tonight, we've got some SPOOKY sprites! Some PETRIFYING pixels! SO SCARY, they'll probably make your dear ol' ma [or other legal guardian] cover their OCULAR ORGANS!
(that's uh, um that's their eyes by the way)
The HORROR!!!
Among the haunted, we've got:
• ARMLESS ASTRONAUTS and EVIL IMPOSTORS!
• WRISTLESS RODENTS!
• A FUNKY FUNGI and his FAITHFUL friend, who they call "THE TOADETTE"!
*dun dun!!!! Dramatic zoom in, more canned screams*
• MYSTIFYING MAPS from MARIO KART!
• A DEATH-DEFYING, CREEPILY COMPLETE, extremely ROBUST RIP of ALARMING assets from Ecco the Dolphin for the
MURDER
MEGA DRIVE!!
*actually kind of calming dolphin sounds off in the distance*
• The HALLOWED CRYPTS of DILAPIDATED BUILDINGS that were destroyed in WRECKING CREW!
• WRENCHING RIPS from RAGNAROK ONLINE!
M-M-Oh my!
• Pac-Man ghosts and a Paper-Mario styled Atomic Boo
Explore the EVIL ASSETS of this ERETHERAL UPDATE...that is, IF YOU DARE....
Ha ha ha ha ha . . . . See you next Halloween, gamers . . .
*transforms into a tiny non-threatening bird and flies off to his large castle, doing a barrel roll in the process by pressing Z or R twice*
Amstrad CPC Sheets: 2
Arcade Sheets: 4
Custom / Edited Sheets: 40
DS / DSi Sheets: 23
Game Boy / GBC Sheets: 1
Game Boy Advance Sheets: 35
Genesis / 32X / SCD Sheets: 173 (50 shown)
Intellivision Sheets: 1
LCD Handhelds Sheets: 7
Master System Sheets: 6
Mobile Sheets: 37
MSX / MSX2 Sheets: 4
Neo Geo / NGCD Sheets: 1
NES Sheets: 103 (50 shown)
Nintendo 64 Sheets: 13
Nintendo Switch Sheets: 1
PC / Computer Sheets: 158 (50 shown, 1 hidden)
PlayStation Sheets: 19
PlayStation 2 Sheets: 2
PlayStation 4 Sheets: 1
SNES Sheets: 64 (50 shown)
Wii Sheets: 2
Xbox 360 Sheets: 3