May Be the Month Ending

(5)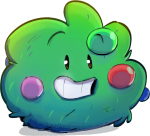 Howdy! It's the rarely-seen green guy again bringing you this month's update!
We've got
SupaCotn
(true to their namesake) delivering even more Cotton (2 Tenkomori and Reboot) submissions, lots of 3DS menu icons from
TeridaxXD001
,
Alxala
filling in some more Game Boy entries with Super Game Boy borders, error screens and such,
Zenksren
with some Fighter's History,
Rabbid4240
with a full set of Mega Man 9 stages, and did you know Game Freak released a game on the PlayStation as well? Our very own
Dazz
ripped practically everything from that game (Click Medic), as well as the unrelated Princess Maker: Pocket Daisakusen. That's not all, of course, our community's got so much more in this update. Still amazed at how packed each update is on a weekly basis, excellent work all around!
Until next time! Same tSR time, same tSR channel!