Enjoy the Contents

(0)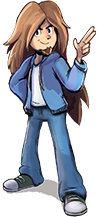 We've got a lot of work ahead of us for the next couple months, and all will be revealed soon - but most important is that we keep tSR running as it does. At least one update a week.
I put a lot of myself into tSR, in the next few months, you'll see how much of myself I am throwing at this. Live the dream, do what your heart desires, the general nonsense that you're told as a kid.
I spent my weekend soaking up the sun and loving this out-of-the-blue weather we're having in London, and to be quite honest, it's built me up to do something fantastic. I feel great, and I hope you all do too - rain or shine!
Arcade Sheets: 1
Custom / Edited Sheets: 6
DS / DSi Sheets: 4
Game Boy / GBC Sheets: 4
Game Boy Advance Sheets: 33
Genesis / 32X / SCD Sheets: 2
Mobile Sheets: 2
Neo Geo / NGCD Sheets: 2
NES Sheets: 9
PC / Computer Sheets: 20 (1 hidden)
PlayStation Sheets: 3
PlayStation 2 Sheets: 1
SNES Sheets: 5