This Is the Part When I Make Sheets ♪

(0)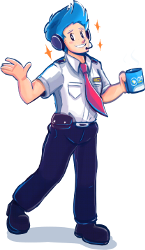 "Cause I can't
re-zip
it no more! ♫"
Hiya, Spriters Resource! Hope everyone's having some not-so-hectic last weeks of classes – I sure am, heh. Song reference hint: "Granola-Butera!"
Looks like the biggest group in this update goes to Yoshi's Island for SNES, which mainly consists of the game's stages! Other highlights include a handful of stuff from Heart Star, Detective Conan & Kindaichi Case Files, Mega Man 5, Harvest December, Mighty Gunvolt Burst, and Hamtaro: Rainbow Rescue (my personal favourite!) There's two arcade games in here, too; Golden Axe + The Simpsons. We've received a ton of awesome Custom Sheets as well, like
Peppino
in the "Mean-Bean Machine" style by
Coolest Guy Around
and
Banjo
in the "Mario & Luigi: Superstar Saga" style by
Spenny Ecks
! Check 'em all out, if you want!
Delta Oscar Delta Oscar is go. Stay fresh, and stay off the hook!