Florpday Night Flip-Floop

(4)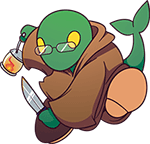 Every time I think FNF is close to being ripped, BAM another update comes along. That section has also been the most popular one on the site for the last couple months.
It's always interesting to see what "meme game" will be the popular one on the site, be it this, Among Us, Baldi, or even Undertale. Thanks to everyone keeping up with the rips though. It's really become a race at this point, as when a new update drops, several people try to submit he same few sheets.
Aside from FNF, we have some great rips from Super Robot Wars, FE Heroes, Metal Slug, Bloons, Resin, Gundam, and a bunch of Sharp X1 sheets. Incredible work!
Also, we're finally getting some progress on Yoshi's Island, cleaning up a lot of old, poorly-ripped sheets and replacing them with crisp, new ones thanks to Barack Obama and MrDoubleA. That's been on my shortlist of things to see cleaned up for a while, so it's amazing seeing this happen. Thanks, guys!
So that's it for this week! All kinds of amazing work to feast your eyes on. See you next time, sprite-fans!