This ain't over yet.

(0)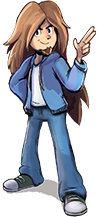 Sorry folks, spent a Weekend away from home so I had no update for you then - but here is one for today, and hopefully, another in a few days. Still got plenty to come yet!
Also, a little bit of a notice for you - tSR T-shirt will be taking pre-orders in soon, and when that happens I will have a new link referring you to our on-line store partner, Shark Robot.
We'll only have a few designs for sale at first, designed and created by myself and the community. Be sure to check them out when they go on sale, and make your pre-order!