April Sprites Bring May... Sprites?

(2)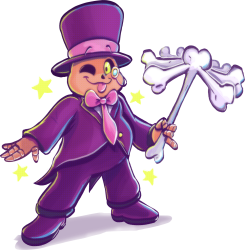 Howdy-doo, and how are you, Spriters Resourcers? It's me, your friendly neighborhood revenant here, now with a fresh new look (courtesy of the lovely
Kevin Fagaragan
; please check him out)! I hope you're all doing okay; I honestly haven't been my best but I'm still pushing forward and staying strong. Y'all do the same too, everything gets better with time.
Anyway, with that dose of reality out of the way, let's talk SPRITES! We have not-quite-300 of them for y'all today, some of which include: Banjo Pilot (YES!), Nintendo Switch anime stuff, Aegis Defenders, One Step From Eden, some Mario & Luigi customs, and lots more of course! You know the drill. Let's get spritey!
That's about it from me for now; enjoy the weekend, enjoy the sprites, all that good stuff! See y'all next time!