You Got Me Blinded by Sprites ♪

(5)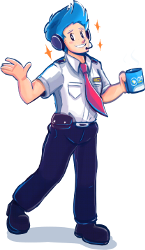 ♫ I'm staring into the
sheet
! You leave me so blinded by
sprites
! ♫
Hey everyone, welcome to the first week of April. Today marks The Spriters Resource's record-setting high of the
largest sprite update
in its history! Thank you to the submitters, the staffs people, and everyone in general who visits the sites. You've all shaped our community into what it is today! Speaking of, can anyone guess which song this update is referencing? Hint: the singer likes wearing mysterious wigs to hide their face!
First up, we've got a bunch of neat submissions from the Ace Attorney series! Lawyer dads, eh? There's also a super huge batch of Knuckles' Chaotix sprites consisting of stages and backgrounds alike. Got a bit of Danganronpa here, a little Tomodachi Life there, plenty of Drawn To Life enemies (boy, do I miss that game), and 40 amazing customs created by our talented contributors! I'm living for
Ridge Troopa
's new work, like my dude
Travis Touchdown
and both
Kirby
+
Blooper
re-imagined in M&L's Dream Team style, woo!
Παρατηρητής
has been hard at work, too; ripping-wise and custom-wise! Be sure to check 'em all out, if you want!
Wait – what's a tSr update without any iDOLM@STER idols? I'd say my favourite would be
Seiji Shingen
. Apparently, he enjoys making others smile? We love to see it! As well, there's loads of different characters from One Step from Eden, Strange Telephone, Umineko: When They Cry, and Super Robot Taisen OG Saga! Some amogus- er, Among Us sprites have made their way in here, too, along with Friday Night Funkin', Zelda's Adventure, and even 'House M.D.'. Never stop surprisin' us, people! Wish I could fit in more submissions, but this update is simply too massive; please enjoy and browse as there's still much more content waiting to be seen!
Just think, "What would dodos do?" Stay fresh, and stay off the hook!
3DS Sheets: 27
Arcade Sheets: 4
Browser Games Sheets: 19
CD-i Sheets: 30
Custom / Edited Sheets: 46
DS / DSi Sheets: 32
Game Boy / GBC Sheets: 1
Game Boy Advance Sheets: 25
Game Gear Sheets: 1
GameCube Sheets: 4
Genesis / 32X / SCD Sheets: 753
Mobile Sheets: 149
Neo Geo / NGCD Sheets: 14
NES Sheets: 18
Nintendo Switch Sheets: 11
PC / Computer Sheets: 292
PlayStation Sheets: 13
PlayStation 2 Sheets: 3
PlayStation 3 Sheets: 1
PlayStation Vita Sheets: 1
PSP Sheets: 2
SNES Sheets: 12
Wii Sheets: 9
Wii U Sheets: 1