Social Pixeling

(2)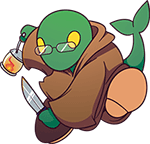 Hey everyone!
Crazy times we're living in, huh? It's odd that everyone around the planet, no matter how much money you have or where you live, is doing the same thing right now, isn't it? That kind of hurts my brain.
Well, while we're all trapped inside, growing bored of our families, why not have a peek at some sprites?
We have a lot of wonderful sheets across nearly every system this week! Even one I've never heard of.
I'd like to direct your attention to the Customs section though, where we got a TON of new submissions. Awesome work, everyone!
While we're all doing nothing, why not rip as much new stuff as possible for next week? Why not finish some old customs you never got around to?
You know what? Let's try to break the all-time submission record. What else are you gonna do, right?
See you next week to see if we did it!