Decemberween is my Favorite Holiday

(1)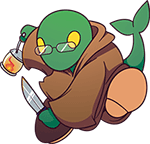 Can you believe 2019 is almost over? I certainly can't. Wow.
We have a huge spread of excellent stuff for you all this week! Everything from Sonic to Barney to Ape Escape to Heracles to Blazblue. From the big names, to the obscure. I'm always impressed week after week at how deep people go with their rips, and how out-of-left-field they can be. It's great!
I remember, when ripping for modern gen systems became easier, I was afraid people would lose interest in older games in favor of the easier-to-rip, newer systems, but I'm so glad to see I was wrong! Every system is alive and well.
As usual, I'd like to point out some fantastic custom work this week, including Askywalker and Kepabra's Undertale customs, CartoonAnimate22's impressive Sonic sheet, and a character that is close to my heart, MisterMike's Geno. (Side note, I check my own rips' numbers every so often and out of nowhere, SMRPG's Geno is suddenly climbing the ranks. Glad to see people discovering him!)
Enjoy everything, sprite fans! Have a great holiday season, and if I don't update before then, I'll see you all in 2020!