A week? Whoa, we're getting slow

(0)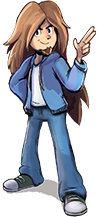 Well, either that or we've been busy working on other things - And RTB has an update ready that I'm sure he'll post in the next few days. So actually... 240 odd sheets in a week isn't too bad really.
Great bunch of sheets here though - so many random ones scattered amongst all sections that it's hard to even begin saying which I'm particularly chuffed with - so I won't. I'll let you take a guess, since it's always fun to include some user interaction.
First person to guess right wins a Nintendo Wii!*
Great rips guys, keep 'em coming!
*Statement not actually true so don't really try