So Ends 2016

(15)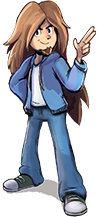 Today marks the last day of a particularly eventful year, thus marking a time when we COULD all look back and reflect on the good and bad. But personally, I think it more apt that we look forward to what is to come. 2016 marked bad times for all of us, but those aren't important - what is important is what we're going to do to make the next year a far better one.
Next week, both Petie and I will be hosting a panel at MAGFest for both DidYouKnowGaming and The Spriters Resource. Perhaps some of you other attendees will join us there, that way I'll be able to hug you all.
The panel is at 2am on the Saturday so uh... Be prepared to be tired. I'll try to keep it entertaining for you all and be in high spirits!
I hope you all have a great New Year's, and I look forward to spending another 12 months with all of you guys. This update's submissions show that as a community we continue to hold strong, and that is the best gift I think I could ask for the New Year.