We're back!

(25)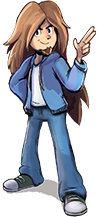 It's been a long time, but we're back! And even our heavenly fathers wouldn't believe just how much badder we are. We've got thousands of sprites to put up still, but nothing that you've seen before!
We're working on some more features, and we're still putting in a lot of filler, but we're pretty much here, we like beer, and we don't want anymore bears. This entire process of recreation couldn't have been done without the support I've received from viewers, members, family, friends and the rest of the general public just general felt it nice to give me the thumbs up.
In particular, just some notable helped:
A.J. Nitro - He helped with a vast sum of Nintendo, mostly Kirby and Mario. Great stuff!
Atlanta - Put up a good sum of sheets, particularly taking on Paper Mario. Nice~
Tigerlily - Offered a lot for me, including a lot of mental support and even ideas on how we can get stuff done faster. Great help with uploading too.
Domobot - If it weren't for this guy, I have no idea how I would have organised some of these games...
Drshnaps - Even leading another spriting community, he found the time to help us out!
redblueyellow - Top man. He uploaded TONNES of sheets, I don't know how he fit any sleep in.
Yawackhary - The Sonic Man, as I like to think of him. Again, without him, I'd have been lost in organising some games.
SmithyGCN - Master of the darkness of Castlevania, he put up loads of sheets, and listened to me moan throughout the project.
Unknown - More like Tales of Unknown. How he kept going without getting a brain-freeze, I don't know.
Also, a lot of thanks goes out to Krade. Whom without, this entire site wouldn't even exist. He saved us from the gutter, and really, did what nobody else would have done. He has my eternal gratitude, and in all honesty, shouldn't have any problems in his life with Karma.
Enjoy the new site, and be sure to share your thoughts and emails with me.