Totally updating

(0)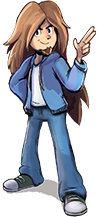 Hey guys, another update here for you all, some New International Track & Field, Zoids Legacy and Naruto: POTN2. All great rips!
There's also a lot of rips I did from Battle Moon Wars that I plan on ripping more of. Hopefully I'll have everything ripped by the end of the month.
Hopefully this is a good update for you guys.
Man, it's snowing so heavily over here in London. I don't think I'll be going out any time soon...