Wan 2 c my poekeymanz?

(0)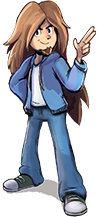 So, the update you've all been waiting for - though some of you haven't, since you've been looking at the section for the last couple days while I uploaded some bits and bobs!
Lots of stuff already! Wow! I'm truly amazed at the speed of ripping for this game. All the stuff that people are really gripping their seats to see are pretty much ripped! How great is that! I must admit, I have indeed indulged in ripping from this game, and enjoyed myself. I hope that you enjoy the outcome! But do be warned, possible spoilers... I guess. I don't really know to be honest, since it's a remake...
Plus, lots of other great rips, all of just as fantastic quality, that hopefully won't become too overshadowed by the Pokemon rips. Do enjoy! Please!
(RTB's edit: The Kirby Canvas Curse backgrounds should be working now.)