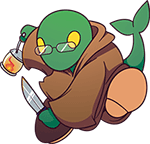 Hey everyone! We're gearing up for Thanksgiving here in the US, which means sharing all kinds of pixelly goodness with all of you! Some of this week's standouts include, but are not limited to
Timothy Grunclebottoms
and his Robocalypse rips,
DeltaMudkip
's definitely-not-a-Megaman-ripoff submissions,
Vanzuro Izuno Xin
has brought us nearly all of the Snow Bros for NES,
DogToon64
continues a streak of really high-quality rips from the newest Pokemon and Wario games,
Spindaboy
got his hands on the Final Fantasy 5 remaster,
ONEABLAZE
is deep into Hotline Miami 2,
madhattervx
is at war on several fronts, and
AxeW1eld3r
has some actually-Megaman rips. Amazing work all around!
On the Custom side,
hansungkee
has a few more Cartoon Network themed sheets that I would mistake for official sprites if I didn't know better,
ElmerMouseFan34
has some classic Disney sprites, and even Sonic Boom gets a showing thanks to
Dolphman
among some other great custom work. Amazing, everyone!
Have a great holiday, everyone who celebrates, and we'll see you all soon!
3DS Sheets: 5
Amiga / Amiga CD32 Sheets: 3
Arcade Sheets: 14
Browser Games Sheets: 10
Custom / Edited Sheets: 18
DS / DSi Sheets: 18
Game Boy / GBC Sheets: 5
GameCube Sheets: 2
Genesis / 32X / SCD Sheets: 1
Master System Sheets: 2
Mobile Sheets: 33
Neo Geo / NGCD Sheets: 4
NES Sheets: 12
Nintendo 64 Sheets: 3
Nintendo Switch Sheets: 14
PC / Computer Sheets: 252 (50 shown, 4 hidden)
PlayStation Sheets: 1
SNES Sheets: 13
Wii Sheets: 13
Wii U Sheets: 1