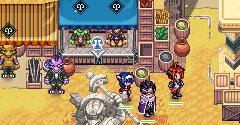 Playable Characters

[3]
Party Members

[6]
Non-Playable Characters

[39]
Enemies

[91]
Bosses

[40]
Tilesets

[36]
Parallax Backgrounds

[8]
Portraits

[36]
Miscellaneous

[31]
Console
Genre
Developers
PC / Computer
Action RPG
Developer coming soon!
Tags
Pending Sheets: 34

Bamboo Fountain
Big Pillar & Baby Pillar SFX
Bomb Explosion SFX
Cargo Ship M.S. Solar (Unused) + Mockups
CAT 4-PUI7
CrossWorlds Lore Progression
Designer SFX
Dream Cutscenes (SFX & Overlays)
Dust SFX
Element Change SFX
General Enemy & Boss SFX
Gods of Shape Statues
Golden Bug
Guard Shield SFX
Huge Hostile Crab SFX
Kamikater
Kamikatze
Laser of Doom
Maroon Valley Panorama (Unused)
Pentafist SFX
Quadroguard SFX
Shock SFX
Title Screen (Concept Art)
Title Screen (Unused)
Tr4in-0
Triblader SFX
Turret Projectile SFX
Unnamed Turret Enemy / Monk Turret (Cave of Aspiration)
Various Harmless & Unnamed Enemies
Various Mockups
Vermilion Wastelands / Vermilion Dungeon / Vermilion Tower SFX
Viewfield SFX (Jungle Guards & Security Brutes)
Water SFX (Cargo Ship M.S. Solar)
Wave SFX

Tagging is in the works and will be here soon!