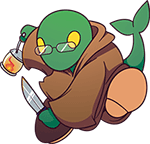 So in Japan, the number 4 means death. This week we have 444 sheets. So yeah. Get it?
ANYWAY hi there, sprite-fans! As usual, we have a bunch of really great stuff to check out! The Tomodachi Train keeps on chugging with NH1507's slew of rips, JJ314 brings some cool new Ace Attorney stuff I've never seen before, HylianFox puts all the chips on Casino Kid, collinsisyou has a Pac-Attack with Pac-Man 99, brnzen has a whole lotta Aegis Defenders, Lumpy Spirit has ripped a bunch of super-cute characters from Drawn to Life, ChingKittyCat wants you to Smile for Me, and our own Random Talking Bush submitted a lot of Panzer Paladin! Neat!
On the Custom side of things, Friday Night Funkin' gets some attention from rmo66xxx, Askywalker, and SharkGuy, among others. Dolphman keeps it Jazzy with Jazz Jackrabbit customs, TriforceLegendX brings us new Mother sheets (But Mother's Day isn't for a month!), and Ridge Troopa has kindly uploaded a backlog of incredible work. Plus there's all kinds of other stuff I haven't mentioned here. Some of which was recently rediscovered from the early 2000s! Please check it all out!
Enjoy and I'll see you all next time!
3DS Sheets: 55 (50 shown)
Arcade Sheets: 8
Browser Games Sheets: 12
Custom / Edited Sheets: 47
DS / DSi Sheets: 34
Game Boy / GBC Sheets: 2
Game Boy Advance Sheets: 6
GameCube Sheets: 5
Genesis / 32X / SCD Sheets: 3
Mobile Sheets: 16
MSX / MSX2 Sheets: 4
NEC PC-9801 Sheets: 3
Neo Geo / NGCD Sheets: 4
NES Sheets: 8
Nintendo Switch Sheets: 12
PC / Computer Sheets: 218 (50 shown)
PlayStation 3 Sheets: 1
PSP Sheets: 2
SNES Sheets: 4