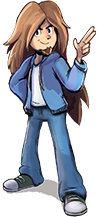 I just thought I'd throw up a quick update of a variety of sections. This update is almost the size of yesterday's, which isn't too bad. Still large compared to before!
You may have noticed I made some changes to the text view front page, to make it easier to view. All old updates on the icon view follow the same style, as this is easier to load for most people and won't kill their connection.
I would just like to mention that I recently had an argument with a certain webmaster, who will no doubt be reading this since, although he apparently doesn't agree with how I do anything at all in the world ever, he still will use this site. I won't mention his name, as I have some sense of dignity, but I'd just like to say that I do apologise for jumping down your throat after you attempted to provoke me. It was unlike me, and it was uncalled for. Just like your actions, although it was very much like you.
Anyway, enough personal drama, on with the sprites!
DS / DSi Sheets: 24
Game Boy / GBC Sheets: 16
Game Boy Advance Sheets: 22
Genesis / 32X / SCD Sheets: 5
SNES Sheets: 5