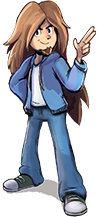 Hey guys, thought I'd throw a quick update up to keep you guys interested.
Sorry that I didn't mention this before, but ALL CUSTOM SPRITE SHEETS WILL BE PUT UP LATER, THEY ARE CURRENTLY UNDER REVIEW AND PROCESSING.
We realised after having had several years of activity, our standards have changed, and thus certain sheets will be removed due to... Well, not being up to standard. These sheets are most likely going to be useless to you.
This will take a while to do, so please be patient.
This update features a few sheets submitted to us by various people, including some Suikoden II, One Piece and Elebits for the DS. This isn't a huge update, but I hope it's still pleasing! :)