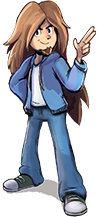 Well I thought that this update should be posted now, since I still have a lot in my queue and this is actually a decent sized update alone - I'll be updating again soon I suppose.
I'd like to just say welcome to Belial, long term ripper, who decided to join us recently and submit a large number of rips. I've put some of his rips up in this update, and the next update will be mostly his submissions.
Anyway, you'll also notice a few other random bits and bobs, all good stuff, and some rips from a Wii game that I picked up the other day. I thought it looked kinda nifty so I ripped absolutely everything from it :)
Enjoy!
Arcade Sheets: 2
Custom / Edited Sheets: 1
Game Boy Advance Sheets: 15
Genesis / 32X / SCD Sheets: 7
Master System Sheets: 1
NES Sheets: 2
PC / Computer Sheets: 1
SNES Sheets: 10
Wii Sheets: 57 (50 shown)