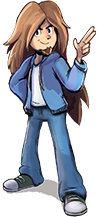 Hey there guys, it's me again. Are you surprised? Did you expect somebody else? I'm kind of the only one who has that picture of me over there on the left - RTB has one of him, and Ton has one of him, but I have one of me. Isn't that strange? I have a picture of myself next to all of my updates - It's a good way of knowing I'm the one posting the update. Or it says my name just above this text, too.
So, what have we got here? HARK! GASP! SPRITES! Who'da thunk it!?
Some interesting rips here, and all submitted in the last few days or so too - Crikey! How mighty! How fine! So... Magnificent.
Enjoy the update! Show your friends! Show your family! Show your pets! Express our passion!~
Custom / Edited Sheets: 1
DS / DSi Sheets: 7
Game Boy / GBC Sheets: 6
Game Boy Advance Sheets: 18
Genesis / 32X / SCD Sheets: 2
Neo Geo / NGCD Sheets: 1
NES Sheets: 5
PlayStation Sheets: 23
PlayStation 2 Sheets: 6
SNES Sheets: 6