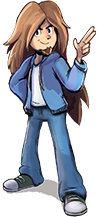 If you be my star,
I'll be your sky.
You can hide underneath me and come out at night.
When I turn jet black and you show off your light,
I live to let you shine.
But you can sky-rocket away from me,
And never come back if you find another galaxy,
Far from here with more room to fly,
Just leave me your stardust to remember you by...
Arcade Sheets: 2
Custom / Edited Sheets: 3
Dreamcast Sheets: 9
DS / DSi Sheets: 1
Game Boy / GBC Sheets: 2
Game Boy Advance Sheets: 7
GameCube Sheets: 1
Genesis / 32X / SCD Sheets: 1
NES Sheets: 1
SNES Sheets: 8
Wii Sheets: 30