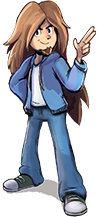 People always told me that three was the magic number, because great things always came in threes. I never believed them, since that's stupid - Green Grapes are the greatest thing, and they come in bunches. They can make bottles of wine, but those come in cases of 6 typically... So I beg to differ.
So from this day, I denote that 123 is the magic number - Why? Because that's how many sheets are in this update! Whoa! How coincidental! It's as though it was planned right from the start!
Treat these sheets as you would a gorgeous grape - magnificently. It's a beautiful thing, a delicious thing.
Mmm... I might go get some grapes in a minute...
Arcade Sheets: 1
Custom / Edited Sheets: 4
DS / DSi Sheets: 47
Game Boy Advance Sheets: 7
GameCube Sheets: 1
Mobile Sheets: 4
NES Sheets: 10
Nintendo 64 Sheets: 1
PC / Computer Sheets: 7
PlayStation Sheets: 8
SNES Sheets: 6