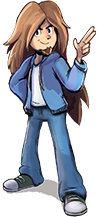 That's right folks, we have our own t-shirts now on sale! So why not go check them out?
They're all designed by the community and if they are successful, then the range will increase with some more designs we've already got planned out! So go on, buy some shirts!
For every shirt you buy, I promise to rip one more sprite sheet! How is that for an offer!
But seriously, buy some shirts, it'd be really cool! :)
As for this update? It's just as awesome as all of you who buy shirts. I love it~
Custom / Edited Sheets: 1
Dreamcast Sheets: 1
DS / DSi Sheets: 2
Game Boy Advance Sheets: 2
Neo Geo / NGCD Sheets: 1
NES Sheets: 3
PC / Computer Sheets: 60 (50 shown)
PlayStation 2 Sheets: 1