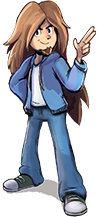 Texture to Il barbiere di Siviglia. Quite rightly so! I am British and as such shall push myself forward - forward to the great Gioachino Rossini! We shall stand proud, not just us from the great land of Britain, but those all over the world who will say "No!" to the faces of those that mock us, and show no respect for our name! Pish! Posh! Gosh!
We are the men and women who make this world what it is, and I say it is time for us to stand! We should be proud of what, who, where and when we are, for that is exactly the being that we form! Yes! Stand proud, loud and sound. No more resistance from those on the other side, we shall overthrow those below us as though it is our duty and our purpose!
Also, got some textures ripped here from the Legacy of Kain series by Ultimecia and a few other random bits. I did some Tekken. Wicked, that cool? Good. Adios!