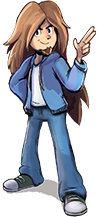 I say this month, since it's such a... Wonderful, month. We should introduce new people into spriting - even if you don't think they're interested, and I can tell you that I bet most people won't be, but I say we try. People say spriting is a dying art while I say it's an up-and-coming art.
So, I say, tell a friend. If you're already a great spriter, impress them. If you're new and improving, help each other out on your way through your spriting times. That right, get a partner!
Show your friends, your family, be proud! Do it because you love it, and don't be afraid to say "I think this is awesome check it out!" - everyone on facebook does it! And if you think tSR is lame, just imagine being on facebook 24/7!
Enjoy the update!!
Custom / Edited Sheets: 1
DS / DSi Sheets: 5
Game Boy Advance Sheets: 9
GameCube Sheets: 2
Mobile Sheets: 1
NES Sheets: 12
PC / Computer Sheets: 10
PlayStation Sheets: 15
PlayStation 2 Sheets: 8
SNES Sheets: 5
Wii Sheets: 4