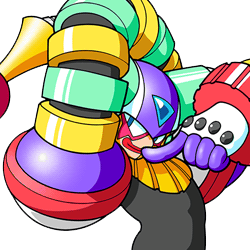 We start the month off with Crayon Shin-chan - Puzzle Daimaoh no Nazo by
Mister Man
and then we have some new 3DS Virtual Console stuff by
TeridaxXD001
.
matymatiasmaty
brings us Hatsune Miku: Project DIVA Arcade while
fexhvhbdsf864
brings us more Super Mario Bros. Crossover stuff.
yamalpaca
gives us some Super Princess Peach while
Reese Rivers
gives more WarioWare: D.I.Y. and WarioWare: D.I.Y. Showcase.
Ya Block
came with Sesame Street Sports & Sunky's Schoolhouse while
Plamz Doom
came with BIONICLE: Maze of Shadows.
Mr. C
brings us some Freaky Flyers while
shadowman44
brought The Addams Family & The Bonanza Bros.
SteamyJ
brings Bomberman for the iPod, Bomberman Puzzle and probably a couple other Bomberman games in the update, like the one for the N-Gage.
playinful
gives us Dragon Quest Tact while
Patchworks
gives us more for Metal Slug Attack.
kfc
ripped from My Muppets Show while
sammyrms1
ripped from Neptunia & Friends.
Biggest_Chungus
brings more for Osomatsu-san Hesokuri Wars: Battle of the NEETs and Osomatsu-san's Casual Neet Sugoroku Journey.
TheCrushedJoyconTSR
ripped Mahou no Princess Minky Momo - Remember Dream and
Kanbei
ripped more from The Ninja Saviors.
Pizza Tower officially released earlier in the week so we have tons of submissions from
DogToon64
and
yamalpaca
, maybe others but those 2 showed up in the rips I looked at.
morrigan
ripped from Touhou Mystia's Izakaya while
Barack Obama
ripped from Arabian Nights: Sabaku no Seirei Ou.
MollyChan
reripped from Final Fantasy Mystic Quest while
ebtheblue
ripped Kidou Senshi Gundam F91: Formula Senki 0122.
slogra
ripped stages from the original and Super Street Fighter II and
blueberrymuffin
ripped more from Help Wanted.
And we also got a few customs from
hansungkee
,
FlandreScarlet64
,
Athy87
,
Peardian
,
Jon Gandee
,
TannerTH25
,
The Irish Spriter
,
deltaConduit
,
Burning Loaf
and
Mr Scotsman
.
3DO Sheets: 15
3DS Sheets: 57 (50 shown)
Arcade Sheets: 5
Atari ST Sheets: 1
Browser Games Sheets: 31 (1 hidden)
Custom / Edited Sheets: 8
DS / DSi Sheets: 5
Game Boy / GBC Sheets: 13
Game Boy Advance Sheets: 12
GameCube Sheets: 3
Master System Sheets: 7
Mobile Sheets: 92 (50 shown)
N-Gage Sheets: 14
NES Sheets: 12 (3 hidden)
Nintendo Switch Sheets: 3
PC / Computer Sheets: 109 (50 shown)
PlayStation Sheets: 1
PSP Sheets: 1
SNES Sheets: 32
Wii Sheets: 25
Wii U Sheets: 8