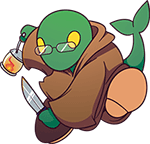 Hey, everyone! It's Saturday, and you know what that means; all sorts of new pixelly goodness for you to check out. We have so many talented people submitting that it blows me away. Usually, I like to point a few of these people out every week, but this week I'm going to do something a little different. This doesn't mean everyone hasn't done a fantastic job, but I want to share some news that has directly impacted TSR, and most of us never even knew it.
The creator of the pixel passed away this week.
I didn't even realize there WAS a creator of the pixel. But Russell Kirsch had a huge effect on my life, and if you're visiting this site, I'm going to assume your life, too. I met some of my best friends and inspirations through TSR and pixel art, and it never would have happened without his man. So as you look at all the amazing artwork this week, and every week, give a thought to Mr. Kirsch and everything he did for our hobby.
Arcade Sheets: 6
Custom / Edited Sheets: 18
DS / DSi Sheets: 17
Game Boy / GBC Sheets: 50
Game Boy Advance Sheets: 7
Game Gear Sheets: 8
GameCube Sheets: 5
Genesis / 32X / SCD Sheets: 13
Master System Sheets: 3
Mobile Sheets: 22
NES Sheets: 4
Nintendo 64 Sheets: 1
Nintendo Switch Sheets: 5
PC / Computer Sheets: 278 (50 shown, 1 hidden)
PlayStation Sheets: 90 (50 shown)
PlayStation 4 Sheets: 10
PlayStation Vita Sheets: 3
PSP Sheets: 1
SNES Sheets: 23
Wii Sheets: 56 (50 shown)