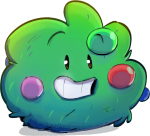 *zips in* Howdy ya'll, RTB's here to bring you tonight's update before it becomes tomorrow's update, sorry it's a bit later than usual as I've been busy as always.
Lots of submissions in this week's update, including but absolutely not limited to Detective Conan: Marionette Symphony rips from
Samevi
, Shin Megami Tensei: Devil Survivor Overclocked from
caiman
, Fire Emblem: Heroes from
Falconpunch
, Neptuina & Friends from
sammyrms1
, The Binding of Isaac (+ Rebirth) from
teh_supar_hackr
, some Delicious (that's the name of the series) rips from
blueberrymuffin
, Dizzy Two, Game Corp DX and Murder By Numbers from
bdeggers
, a bunch of Super Mario RPG updates (and more) from
Barack Obama
, a whole bunch of Nintendo Switch rips from
Worldblender
,
Nathbusia
,
DogToon64
,
splashmob
and
kirbikomeiji
and a whole lot more custom submissions from our community that I can't list the entirety of as it absolutely would be tomorrow by the time I finish this update. Check 'em out!
Until next time!
3DS Sheets: 100 (50 shown)
Arcade Sheets: 5
Browser Games Sheets: 60 (50 shown)
Custom / Edited Sheets: 28
DS / DSi Sheets: 10
Game Boy / GBC Sheets: 9
Game Boy Advance Sheets: 6
Genesis / 32X / SCD Sheets: 7
LCD Handhelds Sheets: 2
Master System Sheets: 7
Mobile Sheets: 53 (50 shown)
NES Sheets: 12
Nintendo Switch Sheets: 69 (50 shown)
PC / Computer Sheets: 279 (50 shown, 1 hidden)
PlayStation Sheets: 5
PlayStation 3 Sheets: 2
PlayStation 4 Sheets: 1
PSP Sheets: 15
SNES Sheets: 23
TurboGrafx-16 Sheets: 16
V.Smile Sheets: 1
Virtual Boy Sheets: 4
Wii Sheets: 62 (50 shown)
Xbox 360 Sheets: 1