Casa de Sprites

(5)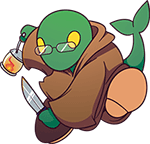 Hey everybody!
I've been a bit AWOL from the main page here for a few weeks. But I have a good reason! I just bought a house, and holy cow is that a lot of work! I've never been so tired every day! Have you ever built a bed? There's a lot involved with that!
But I still browse the site every day and I'm continually impressed by all the great work you all continue to do! We have all kinds of really neat things this week, from a ton of 3DS themes, to more Zelda CDI, to Sonic Mania (Major props to RTB for that one, by the way!) to FNAF, to Donkey Kong to Animal Crossing Mega Man. That's a lot of big names in one update!
So everyone pat yourselves on the back and take a nice look at all the hard work that went into this week's update! See you all next time!