Totally Real Post on the first day of April

(7)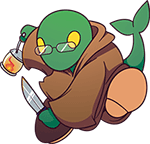 Hi there, everyone. Did you know that today is a normal day and everything is going to happen as it does every other day? Wow, what a relief!
There are no tricks, like changing the site to represent a certain soft drink, or making so every sheet links to the greatest sprite sheet ever, Pig Bart, from Virtual Bart.
It's just a normal, every day sprite update. Yes sirree.
OR IS IT?!
Oh. April Fools is tomorrow. So yes. It is.
Or is it?!