Baby it's cold outside

(4)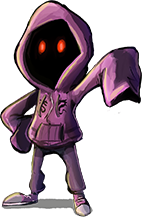 Brrrrr, I'm freezing my pixels off right now. We've been getting record-breaking consecutive days of serious chill where I live, which is oof not fun stuff. Explains why I was so slow to update today, excuses, excuses, etc. What I could really use is some warmth...
Oh phew, feeling much better now. Thank goodness that sprite was laying around.
As for some other sprites lying around, today we've got content from Dragon Warrior, 64th Street: A Detective Story, Pokemon Mystery Dungeon, Final Fantasy, and ChäoS;HEAd NoAH (wow what a title!), and of course plenty of other neato things.
Enjoy the rips and stay warm everyone. And if it isn't so bitterly cold where you are, then be sure to enjoy it as much as possible for your ol' pal Shade. Seeya next time! : >