Do you guys like Arpeegees?

(5)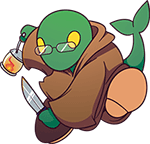 Cause we've got a bunch today. Diablo sprites keep rolling in from Sutinoer, Daemoth churns out Chrono Trigger rips like nobody's business, and Dazz is tearing through Dice de Chocobo and the PSP's Lunar like mad. It's a good update.
On the not-role playing end of the spectrum, Gors gave us some of the most amazing rips of all time in an all-Yakisoba themed game and the Wild Guns characters.
Anyway, if you folks in the New World(tm)don't hear from me before Thanksgiving, kill an extra turkey for me.
xoxo
-Ton