Norwich Gaming Festival Appearance
(0)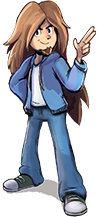 Hey guys and gals, how y'all doing!? I'm here to let you know that I will be doing a talk at the start of next month at the Norwich Gaming Festival. If anybody in the UK is planning to attend, please let me know and I'll go for a coffee with you!
You can find more details and reserve a place at the talk here.
Should be a whole lot of fun, just like this update! Lots of interesting bits from the likes of Fire Emblem, Shin Megami Tensei, and a bunch of other little bits from a selection of random (yet great!) games. Hope you enjoy!