Look at all those sprites below!
(3)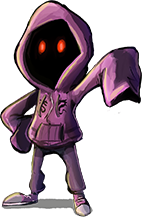 Hey folks! This update is brought to you by the sprites below. What are the sprites below, you might ask? Well, those are the sprites ripped by wonderful submitters just like me and you that appear below this little bit of update text that someone writes out, breathing life into these weekly rip showcases, for without those previously mentioned sprites below, this would be a pretty lonely update, and that'd be sad times for everyone. That is but a hypothetical of course as we clearly have sprites below and content to share--hooray!
We've got Final Fantasy sprites below, DoDonPachi sprites below, Sailor Moon sprites below, THE iDOLM@STER sprites below, as well as Naruto sprites below! Look at all those awesome sprites below! There are also lots of miscellaneous NES sprites below that are definitely worth checking out, as well, many of which came about through the
NES Full Library Project
on the forums, which is quite the undertaking, so go show some support!
Enjoy the sprites below and have a good week, everyone!