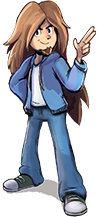 Hey everyone, I'm in a rather perky mood today. I hope you're all having a good one too! I've been out with my friends having a rather marvellous time. I'll be out again tonight, too!
I may also have some interesting news coming up soon that I'll be sure to share with you once it's all confirmed. Should be pretty exciting!
This update has a nice variety, as usual! Loads of cool stuff, ranging from old to new. Young to old. Great to pretty-great-but-maybe-a-bit-dated-but-still-damn-good-lookin'!