---
RE: TSR PokeDex Project - Damian. - 02-16-2011 05:31 PM



I hope you don't mind edits. only on the two on the right though.


---
RE: TSR PokeDex Project - Rakia - 02-16-2011 05:34 PM


(02-15-2011 10:11 PM)

FlyingMonkey Wrote: I feel the same. I'm starting over with the ram, so hope second times the charm.

EDIT:
I think the tail looks pretty nice. And which eye do you think should be used?
As far as names, how about something like "Squirman." (Squirt + Desman) I assume that he'll be launching some sort of liquid from that snout of his.

I'm sorry, but the waters tail to me looks like a piece of poop
might be just me, iuno


---
RE: TSR PokeDex Project - LeleleleMAXIMUM - 02-16-2011 06:00 PM

now that you mention it, i can't unsee it.


---
RE: TSR PokeDex Project - Hoeloe - 02-16-2011 11:58 PM

It's the angle it's at. It should be pointing a little upwards, given the angle of the back of his body.

To be honest, I don't like the Desman sprite anyway. It looks far too bland on the body, and it makes it look unfinished.


---
RE: TSR PokeDex Project - Sengir - 02-17-2011 03:24 AM

Here's an edit of the desman i did earlier (no tail):

---
RE: TSR PokeDex Project - Koopaul - 02-17-2011 03:48 AM

I think that blue circle was supposed to be it's cheek. Not it's eye.
I also kind of wanted the nose to resemble the classic fire hose nozzle:

http://www.antiquemystique.com/images/8279_jpg.jpg

Either way the Ram and Desman never got a truly finalized design like our Frilled Lizard. They could still use some changes.


---
RE: TSR PokeDex Project - Baegal - 02-18-2011 08:03 PM

Sorry for late responses, just going to post my two cents about the last two pages.

I love the idea of the snowshoe hare, I think that would be really interesting. Maybe they could have evolutions based on their forms? Maybe the winter hare evolves into a winter-like evolution, but doesn't change in the summer, and vice versa for the summer hare? It could be a seasonal-based evolution.

I really really really love the clownfish pokemon. Personally, I don't think it would confuse too many countries. I just think that design is too awesome to leave out.

I think the water starter should have closed eyes, because it is like a mole. The circle should be the cheek. I also agree with the fire hose nozzle. To me, I actually like the water starter's sprite the most. It resembles black/white style better. The others look too cluttered and the colors are a bit "dry"

About the fire starter, just saying I love both embaa and pyram. I think pyram would work great as the second evo's name.

---

very minor edit to the desman. I think it should have the firefighter or firetruck/desman theme throughout its evos. Right now, I think the desman should have something on its head or back, because it looks a bit bland. Maybe something along the lines of a siren light or firefighter hat?


---
RE: TSR PokeDex Project - The_Snare - 02-18-2011 08:50 PM

Hm, I did some research on clownfish...

French it's poisson-clown, German it's clownfisch, Italian it's pesce pagliaccio (And if my knowledge on opera is sound, pagliaccio means clown!), Spanish it's pey payaso, Swedish it's clownfisk and in Japanese it's kumamoni...

So the Japanese name has nothing to do with clowns... But that's it... Hey, one of the Japanese words for clown/bumpkin is Inakamono... Mix kumamoni and inakamono and you get Inakumoni, a perfect Japanese name for the Pokemon!


---
RE: TSR PokeDex Project - Fizzy Bubbles - 02-18-2011 09:17 PM

More on the subject of ROM hacks, I have two questions:

1)What generation will we use as a base?
2)Will it be multi-language?


---
RE: TSR PokeDex Project - Baegal - 02-18-2011 09:31 PM



desman evolution plus names?


---
RE: TSR PokeDex Project - Wes - 02-18-2011 10:50 PM

So does that second evolution not have a mouth? I can tell the hoze nozzle is a nose on the first stage because of the mouth being beneath it. But in the evolution, the nose sort of looks like a beak or a long skinny mouth, like an anteater. I think, to avoid confusion, it should have a visible mouth.

The cheeks on the first stage still kind of look like eyes to me. Maybe they shouldn't be a perfect circle like that. What if the cheek had a tuft of fur (like the one on its back by the tail)?


---
RE: TSR PokeDex Project - Koopaul - 02-18-2011 11:25 PM

I think the second evolution should be this chubby upright thing.


---
RE: TSR PokeDex Project - Baegal - 02-18-2011 11:47 PM

I had that at first, but it looked odd. feel free to change it if you want.
Just for clarification, by the way, the second name is "drizzole", not "drizzde". I'll try adding a mouth later to see what it looks like.


---
RE: TSR PokeDex Project - NICKtendo DS - 02-19-2011 02:26 PM




Pridiam
Type: Rock/Flying
Display Pokémon

To impress female Pridiam, the male opens up its tail like a fan and spreads its wings, showing off its gemmed feathers, and performs a dance. The gems are actually bone.


---
RE: TSR PokeDex Project - mutantyoshi - 02-21-2011 02:32 AM

I belive Koopaul thinks the spino should have two evolutions, so I thought why not try and make a first one?

this is what I came up with....I know it isn't as fancy as the other artwork (as to shading...), but anyways...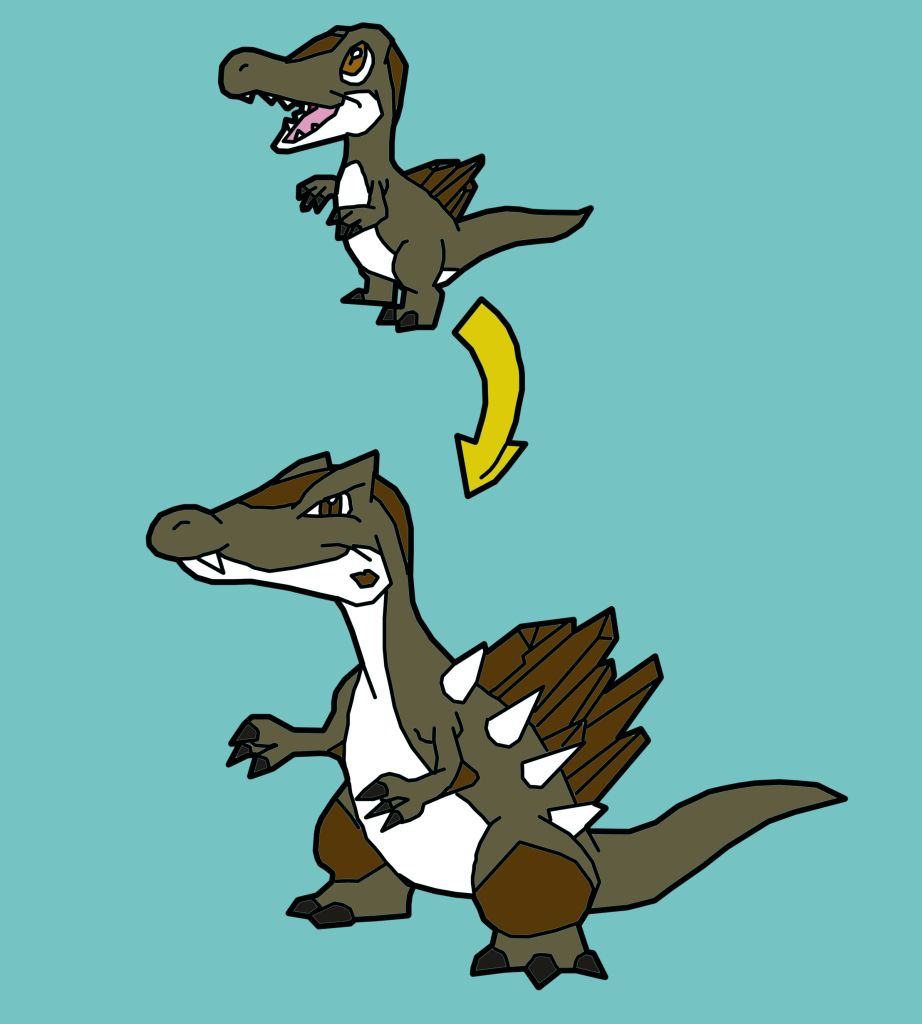 Now, I do think that the type of pokemon they are should be named "Rock Sail Pokemon". Thats just me though...

About the peacock, I do think we should have one, but I don't really like that idea, I like the look of the actuall body, but I wouldn't put gems in the wings and tail feathers maybe just a average peacock will do. Thats just me though.


---